Strategic Marketing
BMI Strategic Marketing Ltd. ("BMISM") is a member of BM Intelligence Group, which brings clients the most effective marketing solution to achieve their marketing objectives beyond the expected. We offer integrated marketing solution that address Hong Kong, the PRC and the World's market needs.
Our Mission
BMISM committed to provide the comprehensive marketing solutions to clients with our Strategy, Creativity, Technology and Project Management so as to maximize their opportunity and deliver positive returns on their marketing investments. It is our mission to help clients to achieve their goal "Beyond the Expected".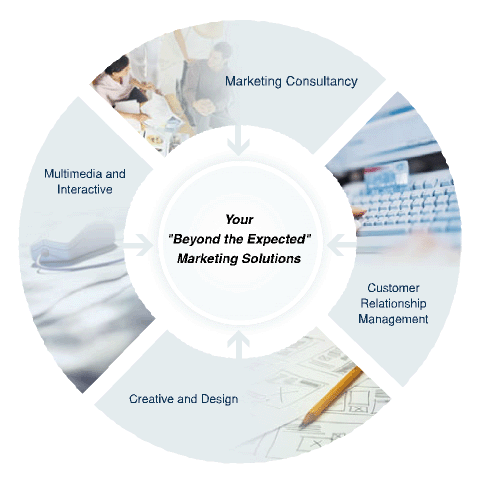 Scope of Services
BMISM provides marketing consultancy and creative design services which can be categorized into three main aspects:
Marketing Consultancy Services
Strategic Marketing Planning

Identify corporate and management goals
Market research and analysis
Competitive analysis
Current marketing program assessment
Distribution and logistical planning
Marketing action plan development
Strategic plan development and assessment

Marketing Strategy Formulations

Market positioning and messaging
Brand building strategies
New product / service launch strategies
Advertising and promotion strategies
Pricing strategies

Marketing Programs Planning and Development

Packaging and branding
Trade show and event planning
Public relations
Direct marketing and online marketing
Customer Relationship Management
A good relationship with customers is essential to obtain their loyalty. Our specialists help clients to build and manage their customer relationship with the objective to enhance their brand and increase returns.
Database design and management
Interactive database and internal management tools
Customer retention strategies
Creative and Design
Creativity is crucial for the success of clients and their brand. Our creative team provides them with the unique creativity to maximize their brand power to lead the market.
Creative concept and strategy
Design and production

printing collateral: brochure, leaflet, flyers, pamphlet, annual reports, calendar etc.
advertising and promotional design: newsletter, membership publications, posters, banner, light box film, magazine advertising, etc.

Copywriting, copyediting and translation
Multimedia and Interactive
Our strategic partner is one of the leading industry players who has established its business in one-stop online business solutions including online website development, online marketing, e-branding, system integration / development service and portal hosting service.
e-Biz consulting
Development and implementation of web-based/ interactive marketing solutions, e.g., e-news, online advertising and promotions
Website construction
Promotional CD/ DVD/ infokiosk-based materials
Promotional motion graphics, e.g. animations
Flash presentation